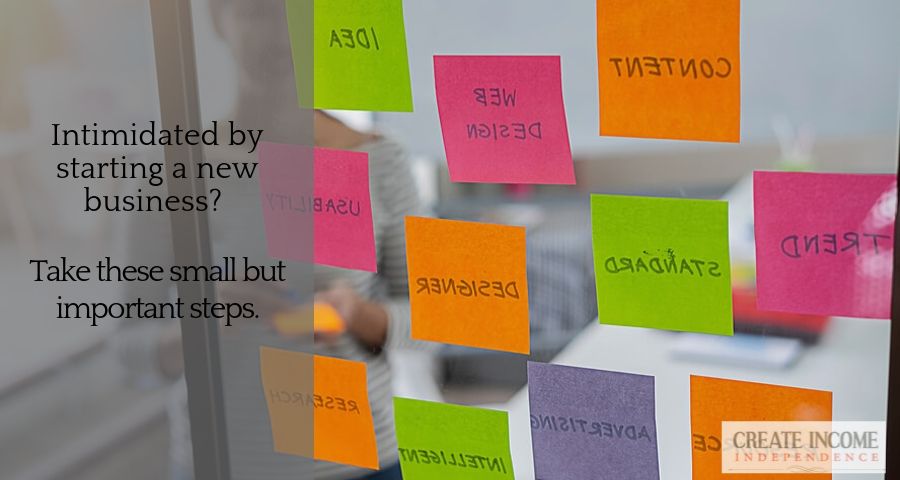 Starting a new business may seem difficult and intimidating – but it's not when you take these small but important series of steps.
First, let's imagine that you have an idea you think will help people solve a problem, and you believe you are the right person to provide the answers. However, you don't know what to do next, so you do nothing. You're frustrated and stuck.
Here are 12 Steps to Help You Move in the Right Direction.
This is not a comprehensive discussion of how to do each step.  It's meant to be a list of the next actions you need to take, so you move beyond the overwhelm, and get started. I have provided links to more information.
1-Research your product or service.
Look at your competition. Who else is doing what you want to do? Google and search for several websites that do what you're proposing. What do they offer and how will you be different? Where is the gap in the market that you can fill? Have you determined there is a need for your product or service by validating your business idea?
2-Decide how you will connect with your customers.
Will you write a blog, produce a podcast or video that offers relevant material about your topic? Will you create a course, ebook, or newsletter that provides valuable information to your audience? There are many ways to reach people who want what you have. Find what method you are most comfortable with and create compelling content that will serve your audience.
3-Find your market.
How will you find and reach the people who will be right for your business? Will you use email, social media, networking events, speaking engagements, paid ads, or contacts who will spread the word?
Marketing is a key part of having a successful business. Spend time developing a strategy for how you will attract attention. I recommend you follow the simple process in this excellent book The 1-Page Marketing Plan: Get New Customers, Make More Money, and Stand Out From the Crowd by Alan Dib.

4-Name your business and define your unique value.
Picking the right name for your business is important. You want the name to define what you do so it's clear to a prospect. However, you can still use a less specific name if you use a tag line that makes it clear what you do specifically.
5-What specific product or service will you offer?
You may have the subject of your business clearly defined. For instance, you want to work with people who are retiring overseas or people who are starting a farm. The question is how will you help them and how will you make money? What products or services will you be selling? Have you picked a niche within your topic that you can become known for?
6-Brainstorm a business plan
Don't be intimidated by the sound of a business plan. This is not the 20-30 page document that is often recommended. Instead, on one to two pages write down the important aspects of the business.
Briefly describe the business and your ideal customer. Set a one-year goal,  how much money you want to make and the number of customers you wan to have. Define the products and services you'll offer and the price you'll charge. Lastly, explain how you will put all these pieces in place. Where do you need help and when will you employ a freelancer or outside firm to do the tasks you can't?
7-Explore funding for your business
All new businesses need some money to get started. It may only be enough to pay for a domain name and a website. or it could be to start purchasing products for resale. Make a budget of the minimum you will need to get your business started. Don't assume you need to take out a loan or get an investor. There are many options to get the resources you need without borrowing money or giving away ownership.
Next Steps — Go From Planning to Doing
After you've gone thought all the above issues, you now need to put it all together and launch the business.
8-Create your on-line presence.
Register your domain name, find an email provider, select a hosting company for your website, link your business to social media.
9-Build a website.
Or just create a single landing page where you can initially direct prospects and capture email addresses. Capturing email addresses of prospects is of great important. It is a powerful way to keep in touch and market to your audience.
10-Take care of the legal things.
These include registering your business, decide on your business structure, get a federal and state tax id, and start a business bank account.
11 -Start selling your product or service.
Launch your products to your email list and in whatever ads and posts you have in place.
12- Evaluate how things are working and make changes.
Once everything is in place and you started your business, assess how you can make it better. Look at your sales, customer comments,  social media engagement, and website analytics, and email open rates. From this information, you can find places to test changes and see the results.
Conclusion
This is a checklist of the steps to get your new business started. Several of the above steps refer to relevant articles and books. In addition, you can search online and on Amazon to find more in-depth information about each topic.
The Solo Entrepreneur's Guide
Our goal is to provide you with valuable information on how the business world works and what you need to know to succeed.
Sometimes there are a lot of moving pieces, so we sort through the best information available and offer unbiased and unaffiliated content that we find useful and present it to you in
The Solo Entrepreneur's Guide.
a
free
monthly publication.