As an aspiring entrepreneur, you may feel so overwhelmed that you never start your business.
You may look at established websites and get discouraged. It just doesn't appear attainable.
Don't forget that these businesses started in the same place you are now.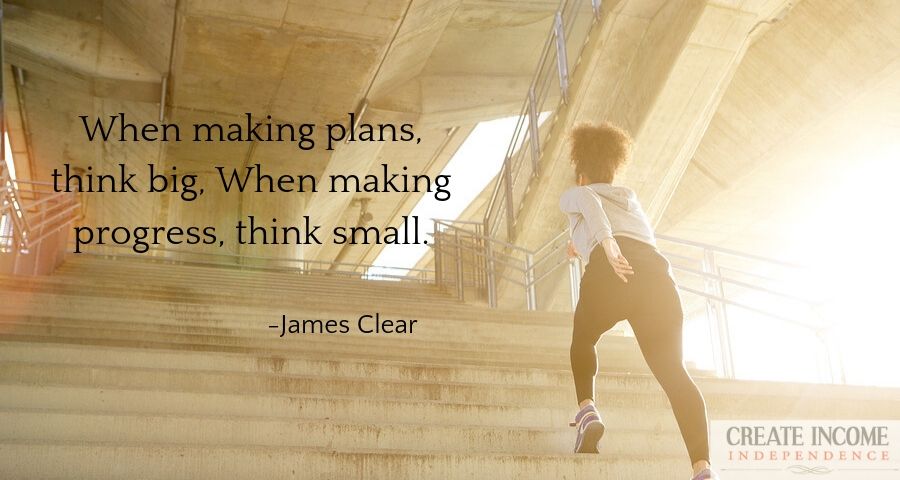 One Small Step at a Time
You may feel you'll never be successful, or your goals are out of your reach. The truth is any goal can be reached, but you need to take it step-by-step. By defining a series of little pieces to be done, the process becomes do-able and you can achieve your goals.
I'm going to show you how to set your goals, but take action only on the next step. Not everything is equally important, nor does everything have to be done at the same time. But, it is essential that you take the steps in the right order to accomplish your mission.
Give that important next step your undivided attention, until you complete it or something else has to be done to move on. That is the only action that you need to take right now. Each small step will be easy to start and finish and  create a sense of achievment.
"The reason most people never reach their goals is that they don't define them, or ever seriously consider them as believable or achievable. Winners can tell you where they are going, what they plan to do along the way, and who will be sharing the adventure with them."  -Denis Waitley
The Goal Pyramid
One excellent method to define your goals and define your steps is the Goal Pyramid. It is taken from Matthew Michaelwicz's book, Life in Half a Second: How to achieve success before it's too late.  (This book is truly inspirational and has been on my Recommended Reading list since I started this site.)
What's great about his method is it's a simple visual way to set your goal and see what you need to accomplish for that one goal.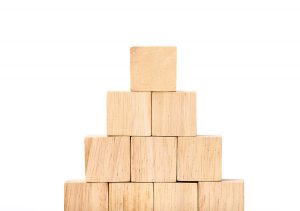 On the very top of the pyramid, you list the goal you're working on now. This can be a 90-day goal,  one-year goal, or a five-year goal. This system works if your goal is a short-term project, like writing an e-book, creating a course, or producing a webinar.
The next level lists the two major milestones that support the top goal. On the third level, you define what medium level milestones you need to accomplish the major milestones, and the bottom level contains four small milestones that provide the basis for the medium level.
It's at the bottom level where you see what the next step is to hit your goal. These will be the actions you need to take daily and weekly to move up the pyramid.
Let's take the example of starting a business. The top box of the pyramid states the goal – Launch my online business.
The second level will list the two large milestones that support that goal. The first is to Set-up a website or a landing page. The second is to Develop a product to sell or a free opt-in to offer.
The third level is what needs to be done to accomplish level two. In this example, they would be:
design the website or landing page and find the hosting company
create or write the product or free opt-in 
add an email opt-in form to collect email addresses from the traffic that comes to the landing page or opt-in.
The fourth level creates even more detail of what tasks need doing. This level has four boxes that represent small milestones. They would look like this:
research your target market and where you can reach them
pick and register your website domain name
select and set-up your email service provider
set-up a payment service
Important to remember, this is only one goal. When you reach it, set the next. In our example, after you launch your business, the next goal may be to earn a certain dollar amount per year, or gain x number of clients. Follow the same process with defining the next steps. As each goal is reached, set your next one.
Set Your Goal and Define the Tasks.
Completing the above pyramid can be a challenge. It requires you to figure out what steps are required and in what order they should be done. To get this level of clarity, you need to brainstorm every task related to a goal.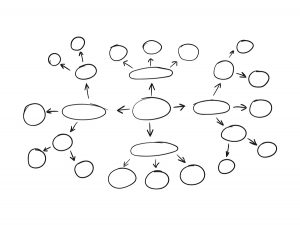 One great way to record all your thoughts and get clear on the little details is to use a mind map. A mind map is a visual representation of concepts and helps you see the connection between ideas and actions. You start with your main goal in the center of the page, add branches coming from the center that represent ideas related to the goal. Each branch is divided into more branches and sub-branches as all the details for an idea are added.
They can be drawn by hand on paper or using a computer program. There are many free mind map tools available. Mind mapping lets you capture all your ideas Whether on paper or with software, this is a powerful and flexible tool.  If you're not familiar with what a mind map is, check ou these two articles of the best free and paid software.  20 Best Mind Mapping Software of 2019  and 6 Best Mind Mapping Software in 2019 (Free and Paid).
How to Use the Goal Pyramid and Mind Mapping Together
The Goal pyramid and mind mapping are two techniques to plan a project. The mind map goes into more detail while the goal pyramid is a great visual summary. I think they complement each other. When you glance at the pyramid and know the task you're working on, then go to the mind map to look at the details. Limit yourself to doing the one step that must be done to move forward.
For instance, if you're doing a mind map with the ideas from above, Launch My Business is in the center circle and one of the branches is Set-up a website. From there you branch out again into several branches, (again from above) design the website, find a hosting company, pick and register the domain name, select and set-up an email provider.
Now here is where it will differ from the goal pyramid. Use mind mapping to brainstorm and list the microtasks for each one of these. The branches that come from design a website would include:
what platform to use
find a designer or do-it-yourself
pick a theme
find examples that show the image you want your site  to portray
analyze possible email providers for features and pricing
design a logo
get a picture taken
write an about page
decide on information for the homepage
Branches with this level of detail should be identified for every primary task. This will give you a complete plan so you know what must be done and when..
Get the Support You Need
Putting together a comprehensive plan is an important step.  Getting experienced advice can make sure the plan includes all the necessay steps, helps you anticipate possible problems, and saves you time. This support can come from different sources. For a discussion about getting support, read The Best Way to Get Business Answers – Seek the Right Advice
Want Further Help With Reaching Your Goal?
If you feel you'd like someone to talk to about your plan, email me at Yvonne@createincomeindependenc.com for more information about my strategy session.
However, if you want to learn more about mastermind groups and how they can help you, sign-up for the Free Checklist: 14  Questions to Help You Select the Right Mastermind Group.