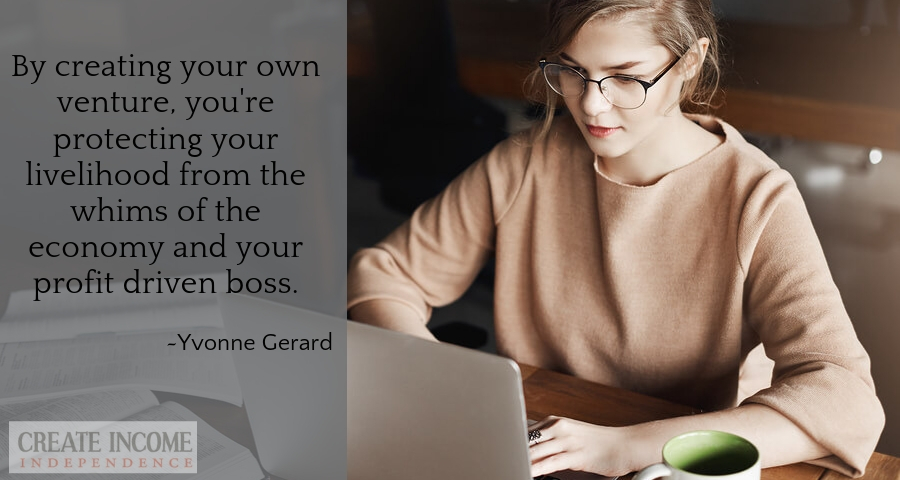 Perhaps you've had a corporate job for a while.
You have talents, developed well-rounded skills, and are a significant contributor to the company.
But, you're unhappy and unfulfilled.
You don't feel valued, nor a sense of loyalty, and you don't see a future with the company.
What Are Your Choices?
You can search for another, better job. Someplace where the corporate environment appreciates you more. And hopefully, you'll have job security and a better opportunity.
Or maybe you can start that online business you have in the back of your mind. Where you can use your abilities, knowledge, and network to create the freedom you want.
If you read this website, you know it's all about creating an independent income. First, we'll explore what's so limiting about staying in the corporate world, and how it can impact your earnings and future.  Next, we delve into the advantages of creating your own venture.
Disadvantages of a Corporate Job.
Getting a good job is often sold to us as the key to success, money, and security. From the time we're in school, we're taught to make ourselves marketable to the best companies.  But, there are limitations with deriving all your income from someone else. While this may have worked in the past, below are issues that face the employer today.
Relying on one employer.
Having only one job is no longer the norm, unlike the experience of your parents or grandparents, where they spent their working career with one employer. Not only did they enjoy a secure income, but a pension, and medical coverage, even after they retired. That's no longer true.  In fact, it's a disadvantage to have one employer. It limits your experience, income and marketability. The EEOC report finds that most workers today are expected to have 11 different jobs in the modern, dynamic economy.
As you get older and have a well-paying salary, the chances for a lay off increases,  leaving you vulnerable at an age where you may not be able to find new employment. In a 2014 survey of recent retirees, 55% said they felt they were forced out.
"Most of these people were in their late 40s and 50s and there was nothing out there for them," he said. "They'd come in with their wives and some of them would break down and cry."
Stuck in place.
With boomers living longer and healthier, at least for those who take care of themselves, working is still a priority. And if your active, able-bodied boss decides to keep working, there may not be any place for you to be promoted. It used to be that we waited for the senior manager to take his pension and go home. But with people in their 60's, 70's and 80's wanting to continue working, opportunities have changed.
Age discrimination.
"Nearly two out of three workers over the age of 45 have seen or experienced age discrimination on the job, according to the results of a wide-ranging AARP survey done in 2018." They either are passed over for a better job or don't get a chance to interview at all.
I've seen it with my own clients, and so have my coaching friends:  many employees have been laid off and been out of a job for years. One of the saddest things is they believe that they'll get another high paying corporate job. That faith keeps them in limbo until they accept that they have to look at other option.
Being a serf to the corporate master.
A corporate job has a lot in common with the middle ages serf who worked the land for the overlord. They got paid for their labor but never owned the asset that was the source of wealth. That is the biggest problem with having a job. Though it's wrapped up in the pretty bow of good pay, benefits, and prestige —the truth is you're enriching the corporate owners in a way you will never get to enjoy. You don't benefit from your hard work, creativity, knowledge or skills. And like the serf, you're at the whims of the landowner.
Advantages of Starting an Online Venture.
Starting a business can be challenging, it may take a while to be profitable, and at times can be lonely. However, once you get started, either full-time or as a second income, there are many advantages. It allows options and privileges that your working counterpart doesn't have.
Mobility.
The ability to change location is a significant benefit. Not only can you work from anywhere, and travel for periods of time, if you choose, you're not stuck in one place if things get bad. If the government decides to raise taxes, set more regulations, or make onerous laws, you're free to move someplace more beneficial to your life, family, and business. Unlike the average employee who is stuck in one place because that is where their job is.
Support yourself.
Once you start your personal venture and develop an entrepreneurial mindset, you realize that the knowledge and skills can always be used to find additional enterprises. If your first business falls short you're not concerned,  you are resilient and know you can find other opportunities. While an opportunity may not be ideal, the important point is that you can steer your own ship, maintain your independence and support yourself on your terms.
Additional income.
This entra income is very valuable. Not only does it give you more money, but also security. Should your primary income suddenly disappear, you have a head start. You're not left wondering how to pay your bills, you already have your project. Now you can shift gears and devote more time and energy to make it grow. You decide the amount of success you desire and can work to make it happen.
Future proof your income.
The economy, business and regulation are in a state of flux —as they always are. An online enterprise allows you to be nimble. You can diversify the products and services you offer, and the prices you charge. You can step up the marketing to get more sales or reduce costs to increase income. If something's not working, you can take action quickly, and turn it around. You can even add an unrelated stream of income to keep cash flowing.
And since we talking about online business, the world is your market. The economy is always good somewhere. If there's a downturn in one place you can market in another, where your product or service is in demand.
Growing your wealth and independence.
Being the owner of a profitable and scalable company is a powerful way to grow your wealth. Let's look at an example. You create and sell a digital product like an app, a book, a course, a software program, group training, coaching, or seminars.
There's an audience who wants what you have and is willing to pay for it. And these customers will buy from you, even when you're not at your desk. This is the 'create it once, get paid many times' model. It's called leverage. It's opposite to the 'trade hours for money' paradigm that is what the work at a job scenario is all about.
As the entrepreneur — the producer of the goods and services, and the owner of the company —you're rewarded with both wealth and freedom.
Wealth is different from income. Wealth comes from owning the business and the rights to all the revenue and profits. And is the most powerful benefit of being the owner. A  profitable business can be sold or borrowed against to acquire more income producing assets. It's the accumulating of assets that make you truly affluent.  And affluence brings true independence.
Conclusion
The best advice is not to put your life at the mercy of an employer. The second best advice is to take action now to prevent the hardship of losing your job. By creating your own venture, you're protecting your livelihood from the whims of the economy and your profit-driven boss. Start small, start with something you know, but take the first steps to ensure you are in control of your future.
Next Steps
If you need help finding an idea to start your business, check out the Idea Finder Course and Brainstorming Session.
Already have a business and want insights, brainstorming, and the support of your peers? The Business Start-up Mastermind Group offers the help of a small group of like-minded people.