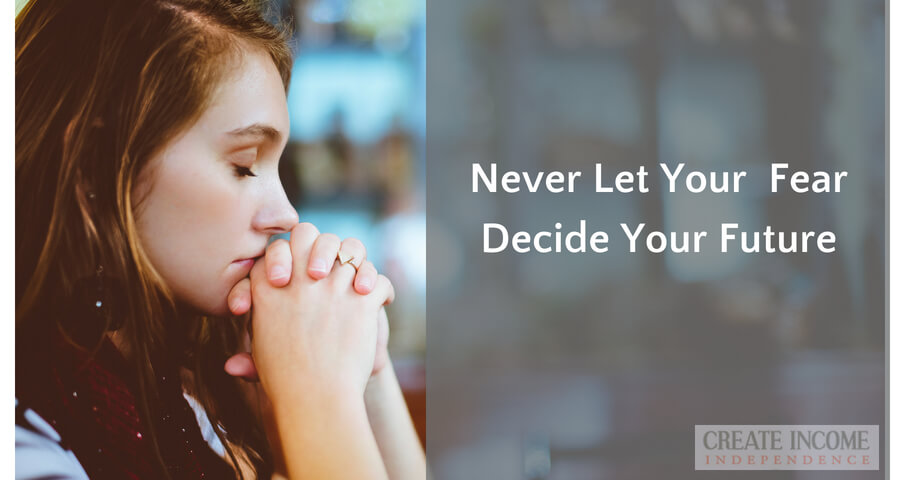 Fears!
We all have them.
They stop us from moving forward.
They sabotage our dreams and plans.
Fears come in many varieties, but they can be overcome.
What Does Fear Really Mean For You?
Is fear stopping you from making progress in your business? Here is a list of common fears about starting a business.
Fear of failure
Fear of success (This is really the fear of having to keep performing)
Fear of getting in over your head
Fear that your relationship with your family and friends will change.
Fear that life will become complicated
Fear of looking stupid
Fear that change, particularly success, will have a negative impact on your life
Fear of the unknown
Decide what fears are preventing you from taking action, write them down, and then answer these questions:
What would happen if (insert your fear) did occur?
What steps can I take to prevent it, or lessen its impact.
How likely is it to happen?
What contingent plans can I put in place?
Now analyze your answers. Are any of these a roadblock that will stop you from pursuing your dream? Or can you take control of your fear and find a way to prevent it, work around it or mitigate it?
Stare Your Fears in the Face
In her best-selling book, Feel the Fear and Do It Anyway, Susan Jeffers says that we experience fears when we step out of our comfort zone. We experience fear as we grow and try new things that are unfamiliar.
She explains that the only way to get rid of fear of doing something is to go out and do the thing you fear. Once you do it and you start to be comfortable, then you're ready for the next challenge. Little by little you become more powerful, confident and in control.
Frozen by Fear
But, what can you do if the fear is too great and you can't move on?
First, change your inner dialogue.
Fear is just a limiting belief
For instance, when you think, "I'm afraid I'll be in over my head with this business" What you're really mean is "I'm not smart enough to do this".
Or, you fear that life will become complicated if you succeed. The real problem— you don't want to leave the comfort of your current situation. You don't want to be called on to do things that are new to you.
The truth is, you can run this business at your pleasure. You can choose to go only as far as you want. If you feel that things getting out of control. You can step back to a place that feels right. You can grow and make changes at your pace.
Each of your fears can be dealt with by recognizing the negative belief behind it and planning how to cope with it.
Replace the limiting beliefs with positive statements. Science has shown that what we tell ourselves is what we get. So if we dwell on all negative things that is what our subconscious will work to give us.
State things in the positive and tell yourself:
I will find something I love to do.
I will start my business.
I am smart and capable of being successful.
Financial freedom and independence is totally in my control.
If I don't know something, I can learn it or hire someone.
The second key action is to start small. A small non-threatening step that is within your level of comfort. Our brains get in the way and put on the brakes when we start planning big new unfamiliar actions.
Fool your brain by doing one small action at a time. Then take the next small step, and the next, and the next. Soon you will see progress.
Keep the momentum going.
The One Fear You Should Have
Up till now we talked about the fears that your subconscious mind is telling you.
All the terrible things that may happen if you take action.
But you should really be scared of the consequences of not taking any actions.
How would you feel if you never:
Pursue work you love and fulfill a lifelong dream
Start a business and leave your job
Create multiple sources of income
Attain financial freedom and independence
Realize your full potential and your ideal life
Live a location independent lifestyle
Without trying, you'll never know what you're missing or what could have been.
Now that's a huge price to pay for letting fear win.
Try the steps above to beat your fear and move forward.
Ready to Move Forward on Starting Your business?
Want to find your ideal business to start? Sign-up for my Free e-course, 7 Steps to Creating an Independent Income.

I'd Love to Hear Your Feedback.
Do you have a fear you're trying to overcome?
What is the one thing you want, but fear is holding you back?
What self-limiting beliefs are you telling yourself?
Please share your experience in the comments below.
Published by CII © 2018