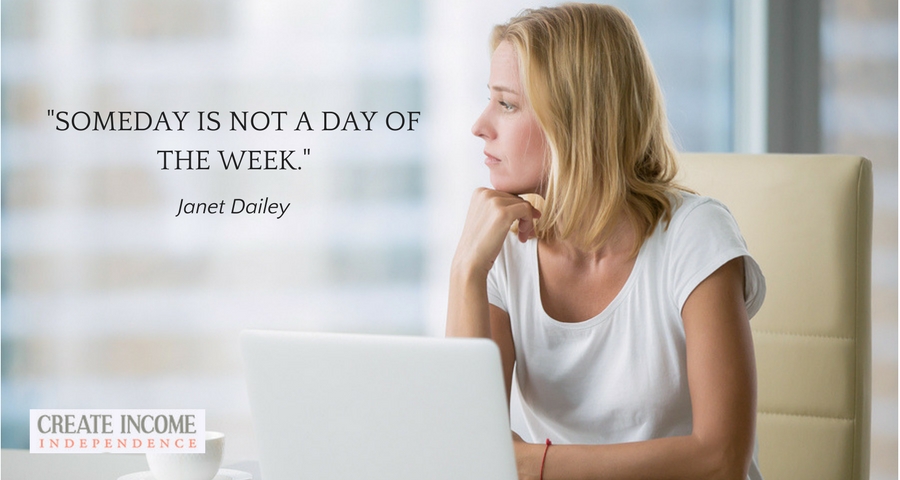 I ask prospective members, "what's holding you back?"
They usually answer with the following:
unsure what to do first
unable to make a decision
prioritizing what's important
struggling to take action
feeling lost and alone
These are problems for all business owners, but especially from start-up through the first year.
Here's How Many People Handle It
1-They read books, listen to webinars, and take classes — endlessly.
All of these offer valuable information. The problem is, it can be confusing, overwhelming, and sometimes contradictory. And often, gets in the way of taking action.
I know, I've done it myself.
2-They talk to friends, family and associates and ask them for advice.
This is rarely helpful, unless your friends and family support your idea and understand your goals and business.
What You Should Do Instead
You need to associate with like-minded people.
To quote the famous Brian Tracey:
No one lives long enough to learn everything they need to learn starting from scratch. To be successful, we absolutely, positively have to find people who have already paid the price to learn the things that we need to learn to achieve our goals.
That doesn't mean you need to associate only with other entrepreneurs in the same business, or those with similar expertise.
Not at all.
Here are qualities that are important in your peers.
Interest, motivation and drive to start and grow their business.
Knowledge and insights they will share to help you make a decision.
Troubleshoot your problem to find an answer.
Hold you accountable to make progress.
Share resources and relevant information.
These are the same attributes you'd want in the members of a mastermind group.
How a Mastermind Group Helps You Progress Faster
You can't succeed in your business alone. Few people can take the ball and run without the support of others. You need a team of like-minded peers to help.
In her article, Why Joining a Mastermind Group Benefits Your Freelance Business, Lise Cartwright of Hustle Groove explains her experience and success with joining a mastermind made.

 "Joining a mastermind is the single most important thing I have done."
This team has been called, in addition to a mastermind group, a Board of Directors and a Brain Trust. These labels really signify their capability. Most successful professionals, entrepreneurs, freelancers, bloggers, and small business owners belong to one.
These peers can cut your learning curve by sharing their experience and the expertise you're missing.
I have been involved in many mastermind groups, both running them and as a member.
It is amazing how insightful and productive a group meeting can be.  I can bring an issue to the group, and in 15 or 20 minutes they offer a different prospective, new ideas, or a unexpected solution.
The issue that had me stuck is resolved in  a "I never thought of that" moment.
But, I Can't Afford It
So many times a future entrepreneur will say, " I'm trying to start a business, and I can't afford to pay for this".
The real questions you need to answer are:
What will you do if you don't join other like-minded people?
Will you muddle along and take more classes, read more books, or ask more family for help?
Will you waste time trying to figure things out yourself?
Will you spend more money and time in the long run trying to save money?
Will you make mistakes that could have been avoided?
Will you do nothing and find you're in the same place you are now?
Spend money for the things that help you succeed, and stop wasting it on what doesn't.
Invest in yourself: developing knowledge, skills and seeking guidance to ensure the future of your business.
Want to Learn More?
Read more about The Business Start-up Mastermind Group and how it can benefit you.
On the bottom of the page, you can contact me. We can discuss your business, your goals, and if the group is right for you.
I'd Love to Hear Your Feedback.
What's holding you back?
What help do you need to take action?
How are you solving your problems now?
Please leave your ideas in the comments section.
Published by CII © 2017