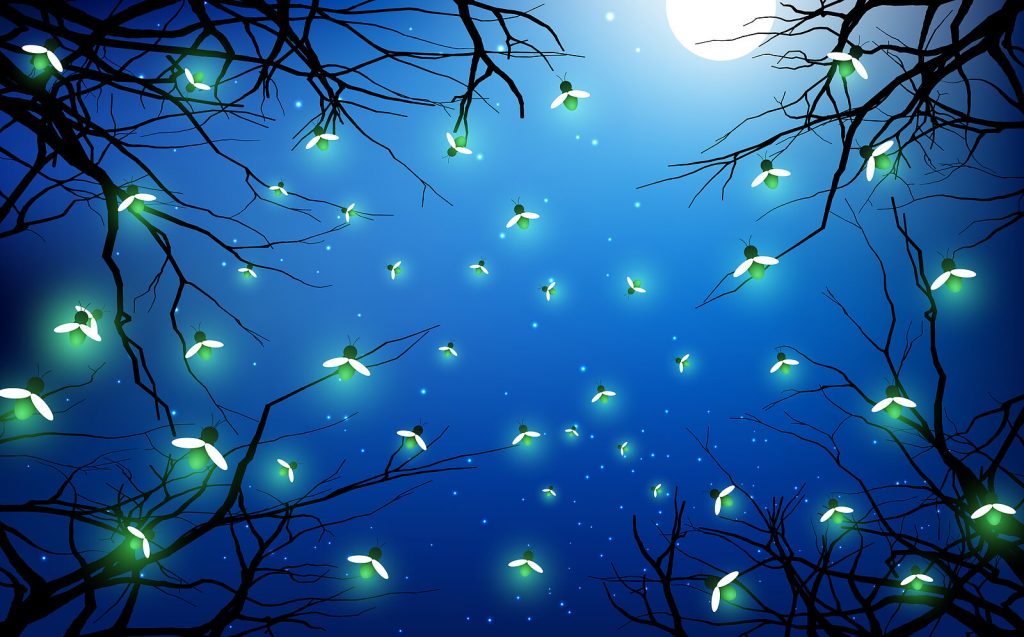 On clear summer nights, I like to sit on my front porch and watch the amazing light show performed by the fireflies. The twinkling appears everywhere, high in the trees, some lower in the bushes, and some while flying at ground level.
The atmosphere is soft and warm and magical.
Mesmerized, I want to understand why they light up and what it means.
A unique marketing startegy.
These soft-bodied beetles are strategic with producing their yellowish lights,  Different species twinkle in different patterns and at different rates.
They do so for two main reasons. They are a signal to attract mates of their species, and warn predators to stay away.
Their light-producing bottoms are a sophisticated marketing system. Attract those you want to do business with and repel the rest. Tell the right people you have what they're looking for and eliminate those who don't fit.
This is a strategy that we as entrepreneurs need to embrace too.
Many starting businesses want to market to everyone, They believe that by defining a select market and only communicating with them, they will limit potential clients and sales.
But that's not how it works.
First, it's critical to decide who you want to serve. Who are the customers you want to do business with?  What are their problems and what is the solution you have for them? What is the experience and answers they seek? How will their life be better after they use your product?
Once you choose who they are, you can design your business for the group of people you want to help. Everything you do, your offers, your content, your ads, your brand speaks to only those people.
You earn their trust because you connect with the right people on an emotional level. You totally understand their needs, desires, and wants. That gives them confidence you are the right person to guide them.
This group may be small, but you don't need a lot of people.
When you speak to the right audience with the intention to serve them, they will become customers and buy your products.
It's the only way to go.
Why beat your head against the wall trying to convince people who don't want what you offer? Why search after everyone when there are people who are a perfect fit?
No hard sell or marketing tactics. That's how all the other marketers do it. You need to be different.
It's just pure value and a product that fits their needs and their belief that you are the right one to help them.
Building a relationship and creating value for your prospect is the secret to long term success and profitability. You effectively eliminate all competition.
Here's the basic framework
First. Define who you want to attract.

Who is your customer? What problem are they trying to solve? What do they want to accomplish?
Second. Explain your solution.
Explain what you offer and what value you create. Identify the pains they have and how you can help them solve those problems.
Third. Describe the results.
Show them in both pictures and words what life could look like for them after they use your course or product.
A simple example of your audience, offer and transformation.
Who you want to attract. A significant group of people wants to start an online business and use it to replace their income from their regular job. Their main problem is what kind of business is right for them, is it a valid idea and how can they get starting earning an income?
The solution.  You offer an interactive program that consists of both a course and a live session to fully answer their questions.
The results. You use photos, possibly sitting on a beach, in the mountains, by the pool, or working from home. You explain that once they master their business idea and get started they are free to work however and wherever they choose.
Market to a narrow category of people with specific needs that align with your offer and your desire to help them. Then speak directly to them,
Ignore everyone else.
The fireflies have this mastered!
****
Subscribe to The Solo Entrepreneur's Guide. The valuable content in this publication will help you transition from the job world and create a self-reliant income, live life your way, and achieve wealth and freedom.
What Fireflies Can Teach Us About Marketing Strategy
A marketing strategy that puts you above other marketers will define your customers, their pains, your solution, and the transformation. The key is to speak only to those people and ignore everyone else.
Create Income Independence