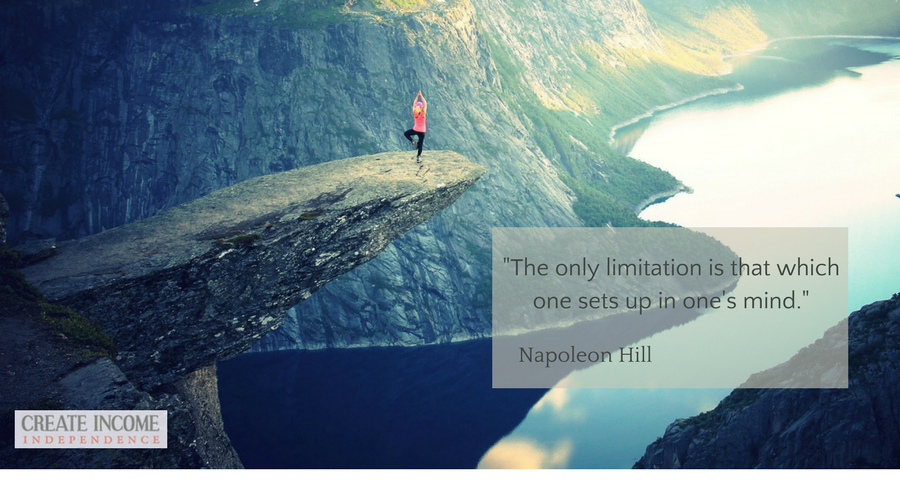 If you're motivated to succeed, but not making progress—try this goal setting method.
Goals are powerful, because they make your mind focus on what's really important. Everything else takes a back seat.
People who set goals will achieve them more often than those who don't.
And people who write them down and review them daily have even greater success in reaching them.
Recently, I decided I want to increase my business. I knew I was not putting forth the effort or had the right mindset. I read everything I could on setting and achieving goals. Here's what I learned.
In establishing a goal, there are three parts—
setting the goal effectively,
a strategy for overcoming obstacles,
and making them happen.
We'll cover all three.
How to Set Goals Effectively
Start by defining your major purpose.
It's the one thing you desire most and will center all your  attention. Achieving this goal will make the biggest difference in your life.
There is one quality which one must possess to win, and that is definiteness of purpose, the knowledge of what one wants, and a burning desire to possess it.  Napoleon Hill
There are four important components of setting an effective goal.
1- Define a precise and specific goal and put it in writing. The goal can not be vague or too broad. What you're seeking must be clear in your mind. Commit to writing exactly what you want. Review it daily. The act of writing and reading it activates your brain to take action.
2-The goal must be measurable. With a measurable goal you can monitor what progress you're making. For instance, instead of  'I want to lose weight', you state "I want to lose 25 pounds" or "I want to make $10,000 more per month". A stated number is to easier work toward and evaluate than a vague concept.
3-The goal must have a time frame or a deadline. There is no incentive if you're not working toward an end. Express your goals in tiers, set out your long term goal—  a three year goal, a shorter term goal— one year, and then near term goals. The near term goals are really the achievements or actions necessary to reach the next level. If you miss the deadline, set a new schedule, revise your deadline and keep working.
4-The goal must be challenging.  The goal must be a stretch, so you have to put forth an effort to reach it. Don't limit the goal by what you think is reasonable. Dream big. The key is to not give yourself a big goal but such a short time frame that you give up. If you find that you are never reaching your goal, take smaller steps and evaluate if you're putting in the necessary work. Don't give up.
Overcome  Obstacles to Reach Your Goals
After you define your goals, put them in writing, and set a deadline—take action.
To take action and move forward you need a strategy:
Determine where you are now, and what you have to do to achieve the goal.
Define the obstacles that are standing in your way and what is necessary to overcome them.
Write a detailed list of tasks that have to be accomplished to get to the next  goal.
For example, you've decided that you want to start an on-line business. You've picked an idea that you're excited about. And you set some key time frames. You've hand written the goal on a file card and you read it every day.
Now prepare your detailed plan.
For the first action item, you recognize that you are in the idea stage and you need to validate it.
In the second action step, you define your stumbling blocks. For instance, you know that you need to create a niche within your bigger idea, identify your client, define your product or service, and determine if there is a market.
The third action step is where you think through each piece of information you need to overcome a hurdle.  In the example of "create a niche within your bigger idea", here is some of the information you may need:
Is there an area within my bigger business idea that I'm excited about, and can specialize in?
Is  there a lot of competition in the niche that I want to develop? Or is it wide open?
What does the competition lack and can I offer something that others don't?
What is the demand within this niche, is it growing or in decline?
What are the demographics of my niche?
What are the opportunities and risks in this niche?
Continue to list all the tasks you have to accomplish to overcome each problem you've identified.
It is absolutely amazing how much you can accomplish if you break your tasks down into bite-sized pieces, set deadlines, and then do one piece at a time, every single day.   Brian Tracey
Make It Happen
This is the important part.
You have identified your burning desire and set out a plan on how to take action.
In order to make it a reality, you must believe it is possible. No matter how big the dream, you must believe in yourself.
If you think you're not capable of achieving success—you won't. If you don't believe it's possible to reach this goal, then you will take actions that prove it. Simply, you are what you believe.
Once you firmly believe that you can succeed, practice visualization. Visualization is using the mind to believe your dreams will materialize.

Create a mental movie about your goals succeeding. Make it as real as possible, engage all your senses. See them, taste them and touch them. And most crucial, feel the fulfillment and satisfaction as if you have attained the goal. Use this visualization several times during the day and right before you fall asleep at night.
Lastly, be persistent and never give up. Commit that you will achieve your goal. Decide nothing will stop you, and keep going until you succeed.
Referenced Books
I mentioned earlier that I read widely about goal setting.
Two of the books that I strongly recommend:
Life in Half a Second: How to Achieve Success Before It's Too Late, Matthew Michalewicz
Goals: How to Get Everything You Want—Faster Than You Ever Thought Possible. Brian Tracey
Want to Learn More

Want to find your ideal business to start? Sign-up for my free e-course, 7 Steps to Creating an Independent Income
I'd Love to Hear Your Feedback.
What are your goals?
Are you having trouble achieving them?
Please leave your comments in the section below.
Published by CII © 2017